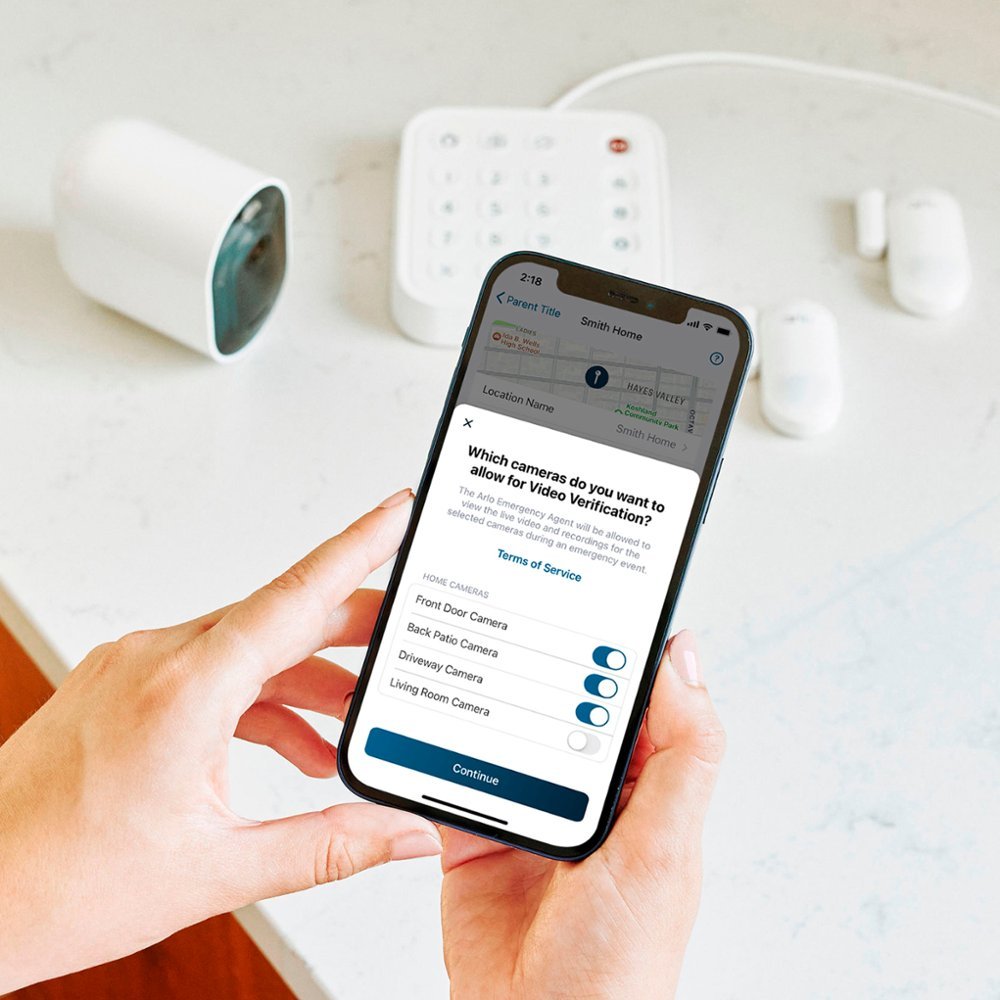 Looking for a new security system? Pick up one of these Arlo – Pro 5S 2K 3 Camera Indoor/Outdoor Wire Free Spotlight Security Camera Bundle – White from Best Buy! It is on sale for $449.99.
71% Amount Paid
29% Amount Saved
A little about the product:
Only available at Best Buy, the Arlo Pro 5S 2K Security Bundle is an $1,000 value if purchased separately at regular price.¹ Bundle includes (3) Pro 4 Cameras, (4) Rechargeable Batteries, Dual Battery Charging Station, (3) Anti-Theft Mounts and Security Yard Sign. Leave your worries at the door with cutting-edge clarity and powerful protection with the Arlo Pro 5S 2K. Installation is easier than ever with a wire-free setup. Plus, the camera's smart Wi-Fi with dual-band connection automatically connects to either the 2.4 or 5 GHz network, whichever is stronger, for faster video loading and less buffering. See details that matter with 2K HDR video that's twice the resolution of HD cameras, 12x zoom to make out details like faces or license plates, and a wide 160° field of view to see the bigger picture. Never miss a detail with clearer video, even at night, with color night vision and enhanced low light video with an advanced image sensor. You can also spend less time charging and more time protecting with additional rechargeable batteries and a dual battery charging station.³ Your cameras will also always stay secured with the included anti-theft mounts, and you can send a message that you're protected with the included yard sign. The Pro 5S 2K is also built to work with the Arlo Home Security System, providing enhanced battery life, a more robust connection with Arlo SecureLink, and image verification when power or Wi-Fi is down.⁴ Get smarter notifications on your phone when the Pro 5S 2K spots people, vehicles, animals, or packages, and view live or recorded video clips directly from your phone with a free trial of Arlo Secure service included. ²Personalize your notifications and create custom activity zones to ensure you only get alerts for what matters most, reducing less important notifications.
---
Exclusive Best Buy bundle — a $1,000 value if purchased separately
Includes (3) Pro 5S 2K Cameras, (4) Rechargeable Batteries, Dual Battery Charging Station, (3) Anti-Theft Mounts and Security Yard Sign.
See Picture Perfect Details
2 times video resolution of HD lets you zoom in 12X to see sharper details.​
Stay Connected
Setting up your camera is seamless with dual-band Wi-Fi that supports both 2.4 and 5 GHz networks and automatically connects to whichever is stronger.​
See Color at Night
View critical details in color night vision for better identification.​
Light up the Night
Ward off unwelcome guests using the integrated spotlight.​
Quick and Easy Installation
Simple wire-free setup makes it easy to install and adjust your camera like a pro with the included mount.​
Get the Bigger Picture
A wider, 160° view with auto image correction reduces the fish eye effect.​
Longer Range and More Secure Connection
Connect your camera to the Arlo Home Security System via Arlo SecureLink for a more secure connection, longer battery life, and more range than Wi-Fi.⁴
The Ultimate Security System
Works seamlessly with the Arlo Home Security System for enhanced battery life, a more secure connection with Arlo SecureLink, and image verification when power or Wi-Fi is down.⁴
Priority Dispatch
When combined with the Arlo Smart Home Security System, 24/7 Video Verification gives you priority dispatch for faster response from emergency services.⁴
Act Quickly With Smarter Alerts
With an Arlo Secure Plan, receive notifications for people, vehicles, and packages so you can react quickly, right from your phone.​
Protect Year-Round
Built with all-weather protection to withstand heat, cold, rain, or sun so you can use your camera in all seasons.​
See What is out There
Powerful AI object detection lets you know the difference between a package, person, animal, or vehicle.²
Keep Your Videos Handy
View stored cloud videos and audio recordings for 30 days, anytime, anywhere.²
Charge Conveniently
Snap the magnetic charging cable into place to quickly charge your camera, or charge two batteries at once with the optional Dual Charging Station accessory.​
Works Seamlessly with Your Smart Home
Receive alerts and manage your home security through Amazon Alexa, IFTTT, and Google Home.
¹Value if products purchased separately at the regular or Was prices.
²Arlo Secure includes cloud recordings of video clips at 2K or lower resolution for 30 days. Renewal of an Arlo Secure plan is required to maintain Arlo Secure features, including cloud storage and activity zones.
​³Additional batteries and dual battery charging station sold separately.
⁴Battery enhancements, image verification, and enhanced connectivity capable when combined Arlo Smart Home Security system, LTE backup box, and Secure Pro plan (sold separately).​
⁵Arlo Pro 5S 2K Cameras are for use in the US only.